Facing the accelerated transformation of the construction industry from labor-based to technology-based, and coupled with the Hong Kong government's active promotion of "re-industrialization" in recent years, smart construction is the trend, and digital transformation is the key to promote high-quality development of the construction industry. As one of the largest main contractors in Hong Kong, China State Construction Engineering (Hong Kong) Limited (China State Hong Kong) is committed to investing resources to promote digital construction and realize the industry transformation and upgrading.
Establishing smart construction standard
China State Hong Kong develops C-SMART All-in-one Smart Construction Management Platform with the "7+2+1" standard. By utilizing advanced technologies such as Internet of Things (loT), Artificial Intelligence (AI), Cloud Computing, and BIM, it provides innovative smart construction site solutions to collect, process, analyze, and visualize data that optimize construction management and decision-making, improve overall efficiency by reducing human errors, and provide all stakeholders with a more transparent and accurate overview for realizing intelligent and digital construction site management.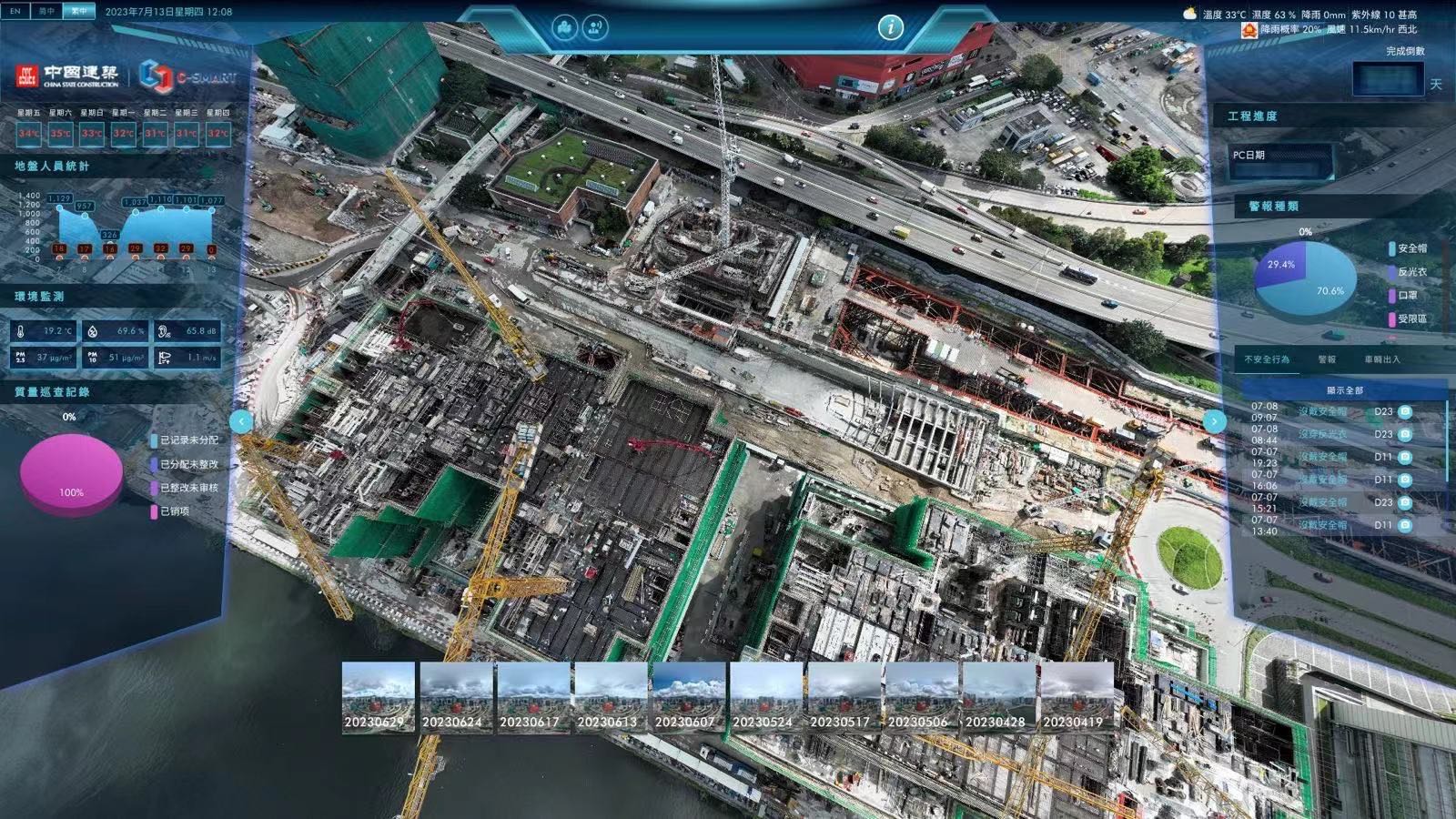 Creating an integrated platform for intelligent management
The C-SMART All-in-one Smart Construction Management Platform centralizes all 8 major functions in one single platform, including Workers Management, Machinery Management, Materials Management, Quality Management, Safety Management, Construction Environment & Energy Consumption Management, Construction Survey Management, and Progress Management. Other solutions or systems in the market can only provide independent or partial functions without integration or correlation.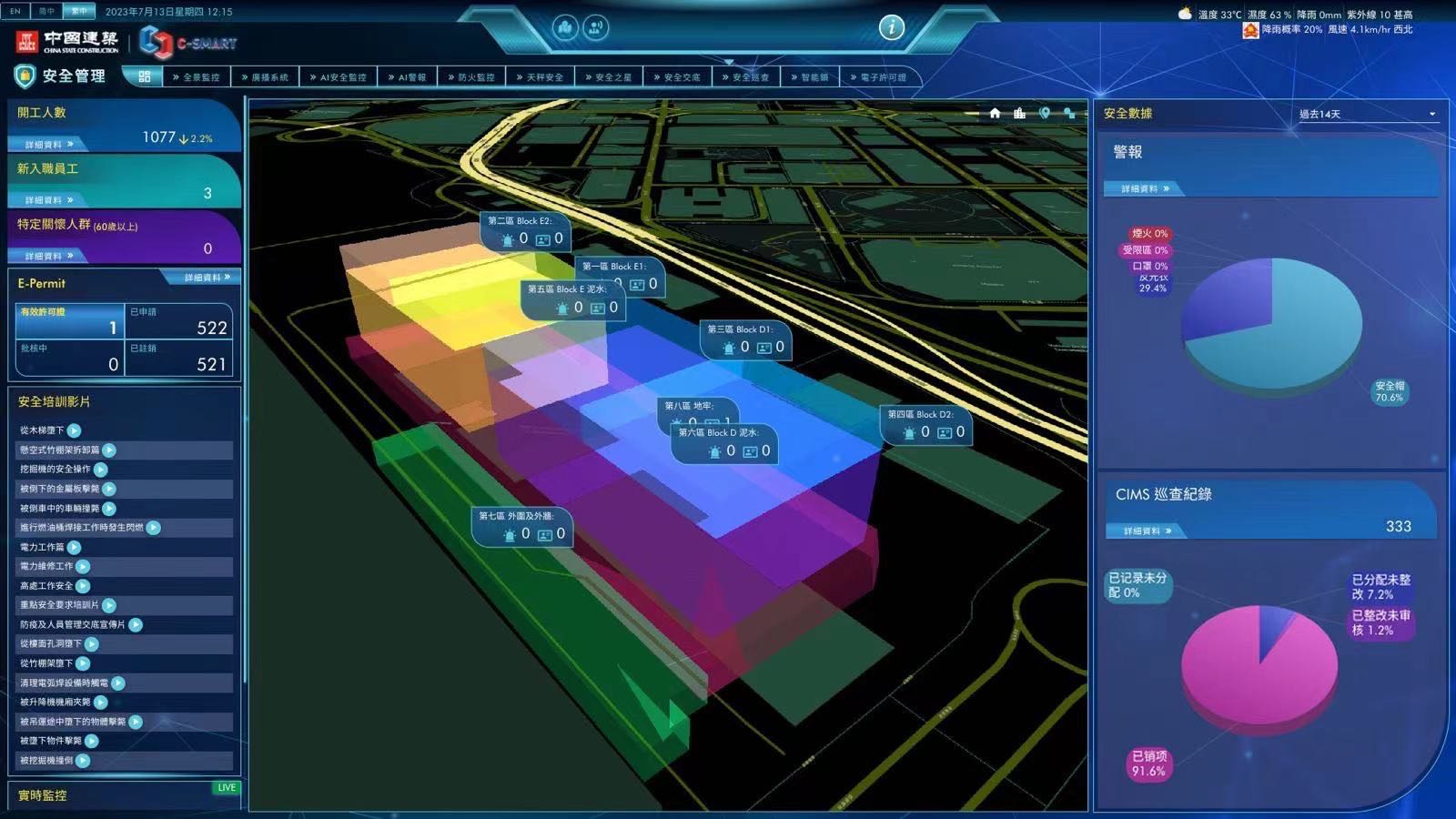 Gaining trust from different realms
To date, the C-SMART platform has been implemented across nearly 140 construction sites in Hong Kong, Macau, and Mainland China. The platform's availability stands at an impressive 99.96%.
The system has not only been fully affirmed by front-line colleagues, workers, management, and stakeholders, but also by customers, developers (e.g. MTR, Sino), Chief Executive, various Hong Kong government departments (e.g. Architectural Services Department, Housing Authority and Housing Department, Security Bureau, Development Bureau, etc.), different associations (e.g. the Construction Industry Council, the Hong Kong Construction Association), and various universities and colleges, that have greatly enhanced the brand awareness of China State Hong Kong and its image in the application of information and communication technology. Moreover, multiple stakeholders have expressed their belief that the C-SMART system is capable of optimizing and facilitating construction management and decision-making, enhancing quality control, boosting efficiency, and improving site safety. Furthermore, C-SMART has introduced a novel mode of construction management, which significantly reduces time and costs, enhances overall efficiency, and enables intelligent, digital, and information-based management of sites.
Considering the environmental impacts of the projects, take the construction of the Community Isolation Facility in Kai Tak as an example, the use of C-SMART integrated management solution for the MiC and other construction materials reduced approximate 10% of construction wastes, 60% of on-site construction work time and thus the in-site pollution, it reduced carbon emission in 30% greatly.
Evolving towards digital building
It is expected that by 2024, a significant majority of China State Hong Kong's project sites - approximately 80% - will leverage our proprietary C-SMART platform. This will enable it to enhance the efficiency of project management, while also ensuring superior standards of safety and quality control. Going forward, it plans to expand the application of C-SMART to new domains, transcend traditional boundaries, and promote its adoption across other regions of China.
China State Hong Kong is actively collaborating with the construction industry to usher in a new era of digital and intelligent management. Its focus is on driving the digital transformation of the construction sector, accumulating digital assets, and dedicating its efforts to the development of a Smart City in Hong Kong.